by Sarah Mason.
27th February, 2023
Three Hagges Woodmeadow – transforming a 25-acre arable field into a functioning ecosystem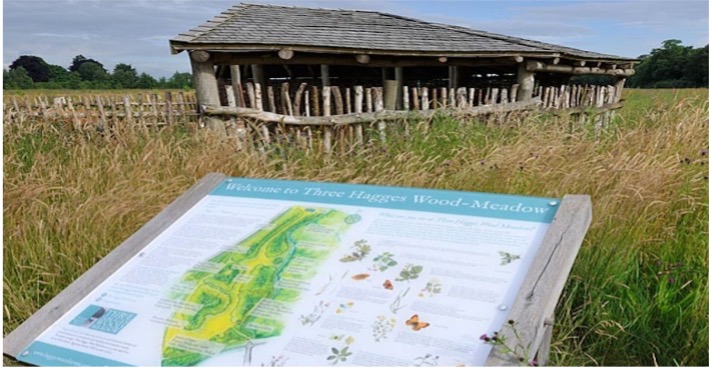 'There is more to woodland than trees' Dan Carne, Director of the UK Woodmeadow Network at Woodmeadow Trust, tells me as we have a cup of tea in the cosy site office at their flagship site, Three Hagges Woodmeadow. Dan goes on to tell me that about the importance of mosaics of habitats and how, if you are thinking of planting a wildflower meadow, why wouldn't you include areas of trees – and likewise if you are planting trees why wouldn't you plant flowers as well? In the last 100 years woodland cover in the UK has doubled, yet our woodland species are still in decline. Perhaps we need to consider how we are planting back our trees?
Woodmeadows are, as the name suggests, a combination of meadow and stands of trees. Combining these habitats creates more than the sum of the two habitats in isolation. It creates the mosaic of habitats that we so often hear about in rewilding projects. Messy edges with structural and botanical diversity create a rich variety of habitats.
Woodmeadows used to be widespread across Europe, probably originating 5,000 years ago within some of the earliest farming communities. These semi-natural wooded meadows formed over long periods of time and were managed through a combination of hay cutting, pollarding and grazing with livestock.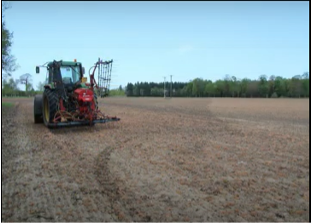 Woodmeadows are a form of multifunctional farming which produced hay, timber, mushrooms, fruits, and botanical medicine, while also being one of the most plant diverse systems anywhere on the planet – 76 species per m2 have been recorded. True nature friendly farming!
Almost non-existent in Europe now, wooded meadows within Scandinavian and Baltic nations are a priority grassland habitat under the EU Habitats Directive, but sadly not across all of Europe.
The Trust's site was previously used for traditional arable farming and was still a barley field as recently as 2012. Between 2012 and 2013 the project's founding team (Rosalind Forbes Adam, Linden Hawthorne and Tango Fawcett) planned and delivered the planting of 10,000 trees and sowing of grass and wildflower seeds to celebrate the Queen's Diamond Jubilee. By 2013 the nature value of what the Three Hags (wise women) had created was clear and the charity, which was eventually to become Woodmeadow Trust, was established – with a team of trustees and George Peterken, the man who coined the term Ancient Woodland, as Patron.
Legacy soil fertility is typically cited as one of the biggest barriers to habitat creation – competitive species will always prevail in fertile conditions. However, despite a phosphorus level of 5 on the Olsen Index (very fertile!) wildlife has moved into the woodmeadow at a speed that's taken experts by surprise, even though the site is in its infancy and won't mature for many years.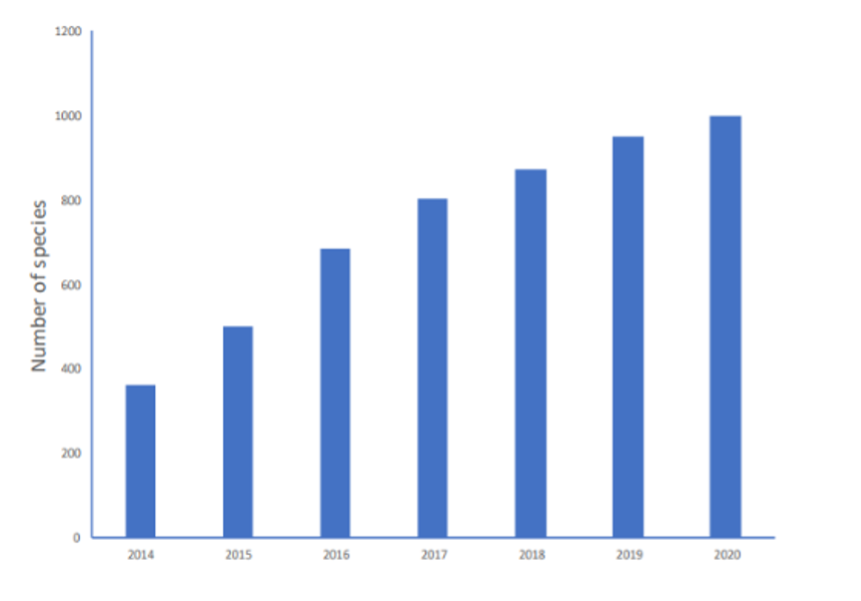 Site surveys have found more than 1,260 invertebrate species – including over 30 with a high nature conservation status – which is incredible given the site was effectively biodiversity-free in 2012.
The future for Three Hagges Woodmeadow includes an ambition to be financially sustainable and lead the way as an example of best practice and learning in how to convert a former agricultural field into a high quality, financially sustainable, habitat. The Woodmeadow Trust is now a hub for best practice sharing and learning. They have a plant nursery onsite which is run by volunteers and their aim is to educate and support others in woodmeadow creation.
Three Hagges Woodmeadow is open to the public 365 days a year and 24 hours a day. They also run a packed calendar of events which include courses in scything, fungus identification, children's forest school, mammal breakfast and many more.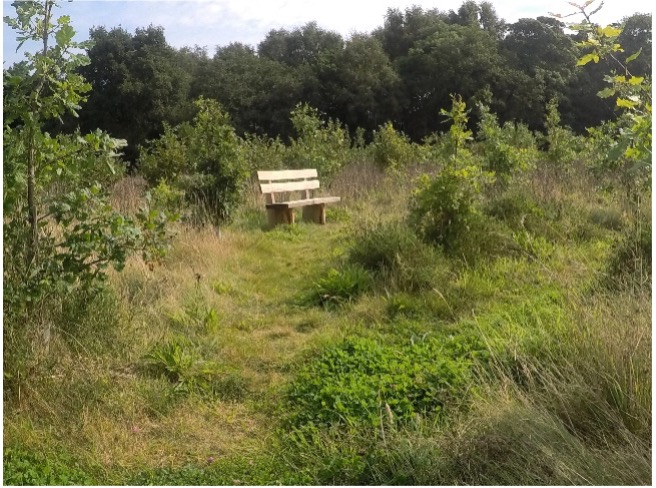 The Woodmeadow Trust, since establishing, has been keeping records of the transformation of Three Hagges Wood and these records are available on their website. These records can give us hope for the future – a promise of how nature can make a come back in a short space of time if we give it the space to recover.

Find out more about The Woodmeadow Trust here: www.woodmeadowtrust.org.uk
If you are interested in setting up your own woodmeadow or already have they would love to hear from you: www.woodmeadowtrust.org.uk/about-us/contact-us
Read the records of the transformation of Three Hagges Wood here: www.woodmeadowtrust.org.uk/learn/resources
Image credits: Woodmeadow Trust