Below is a list of our planned events.
From webinars to (post-pandemic!) site visits, we hope you'll find the events that we will organise useful. We are currently planning a programme of webinars for 2021, so although we'll tweet, post news items, and send updates by email, remember to also check back here regularly for the current list.
If you have a topic that you know well, and comfortable presenting, and would like to propose that a webinar, of course, please contact us.
---
Rewilding Yorkshire with native livestock and equines
Monday, 26th April, 2021, 19.30 to 20.30.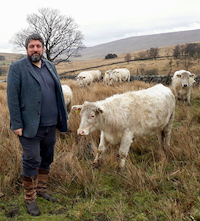 Rewilders are well aware of the role that grazing animals can have in restoring habitats, but the diversity between the various breeds of grazing animal is often under appreciated. In this talk, Christopher Price will discuss the varied attributes of the different animals and what factors to consider when selecting the most appropriate.
Christopher is Chief Executive of the Rare Breeds Survival Trust, he was previously Director of Policy at the CLA and has a longstanding interest in ecological restoration, particularly through the use of grazing animals.
It's free to join, so please register in advance by clicking this URL and entering your name and email address: