by Kate Graham.
21st July, 2023
A dark shape glides through the undergrowth as Tom opens the gate. He has just pointed out recent signs of activity at two badger sets and he is delighted to see the fox. "We have so much wildlife here: birds, many owls, rabbits, hedgehogs, badgers and foxes."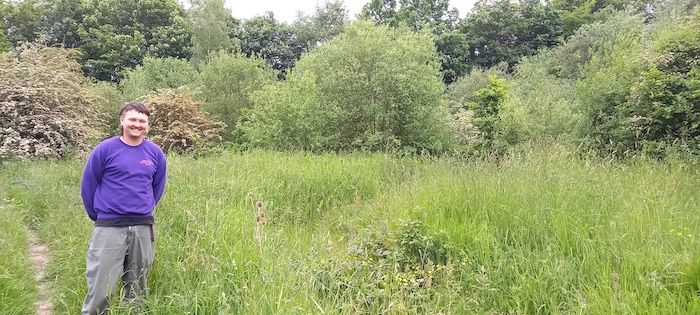 Tom Jepson has just taken on a full-time role as Lead Activity Worker at Leeds City Council's West Leeds Activity Centre in Kirkstall. In a triangle of 17 acres stretching down to the canal, the site includes around seven acres of established trees and scrub as well as flatter grassland areas, bordered by the canal, a golf course and a housing estate. Passionate about rewilding, he is brimming with enthusiasm for the possibilities that the wilder parts of the site offer, both in terms of rewilding the land, and the hearts and souls of the young people who come to the centre. Leeds City Council opened the Activity Centre in 2001; prior to this it was called the Armley Lazer Centre.
The first steps have been tentative; the earliest being to see the overgrown nature of the site as a wonderful asset rather than a problem. The team (currently 13 and made up of activity workers, administrators, centre manager and casual staff) has created some wildflower plots, and like many people who have tried this, haven't quite got the results they hoped for (does anyone the first time?). When I visited, the plots were full of a beautiful display of blue Fiddleneck and Tom is enjoying the randomness of it all. Next year something else may emerge. They have also planted trees, some already several feet high, having survived deer and rabbits – some are doing less well.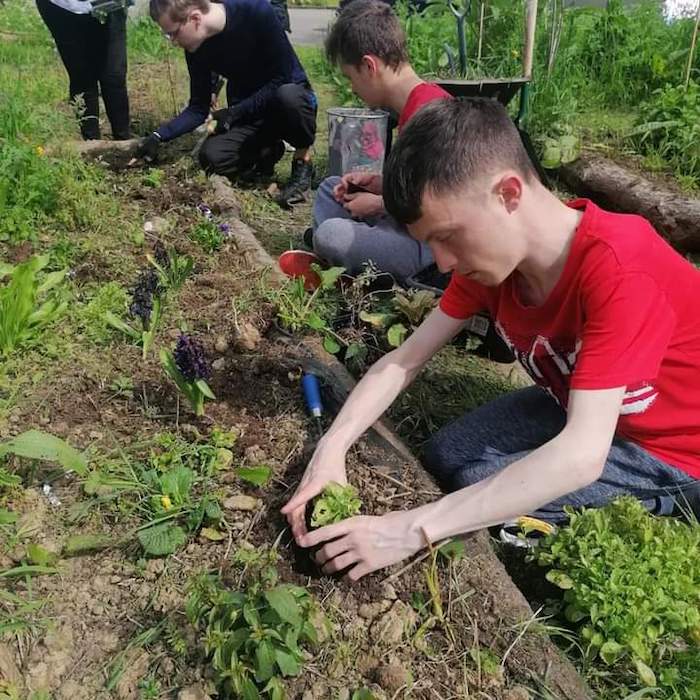 There is huge potential here. Tom hopes to create a pond in an area that already naturally floods, though this will need to pass stringent health and safety checks, being on council land.
The biggest potential of all though is in the range of young people who are getting involved and could be even more so. The Centre is, of course, an Activity Centre – full of fun, challenging, and exciting things to do. However, alongside the motorbiking, climbing challenges and assault courses they also offer bushcraft, nature walks, foraging, cooking, carving wood to make pegs and hooks for their coats, and weaving willow to make a living shelter. These activities are calming and allow connection, helping the young people to slow down, connect more with themselves and with each other and feel more connected to nature around them.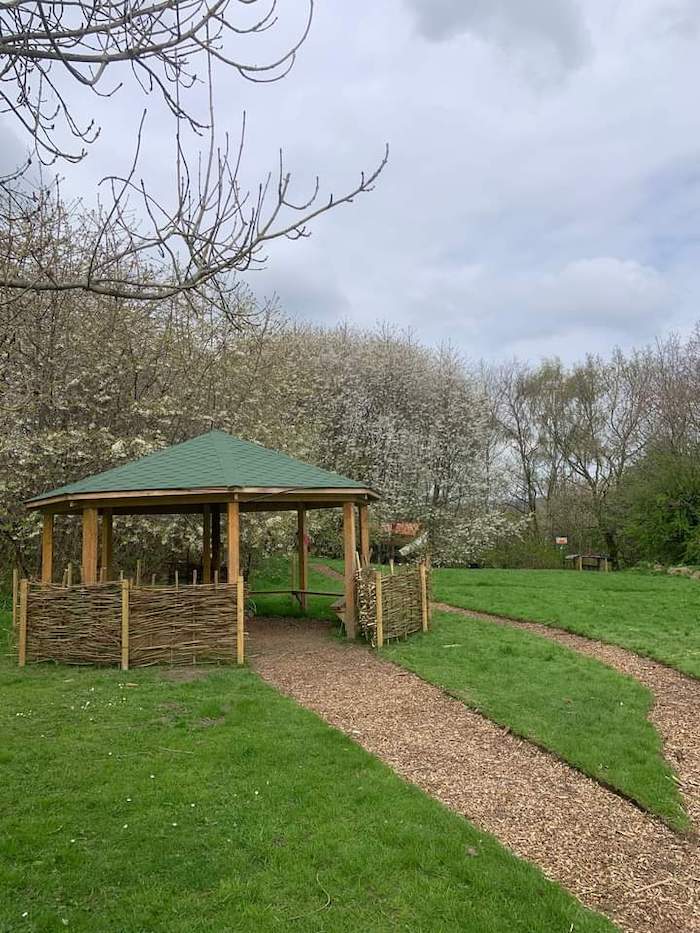 Tom and his colleagues are at the start of a journey into nature recovery and wilding. Rewilding Youth in Hull (see the YRN guest blog) provides inspiration into how they might develop the therapeutic potential of their offer – like the group in Hull many of the young people who access the Centre are neurodiverse. Offering calm and accepting spaces, allowing focus to emerge, and balancing stimulation with self-regulation could be part of the wilding journey.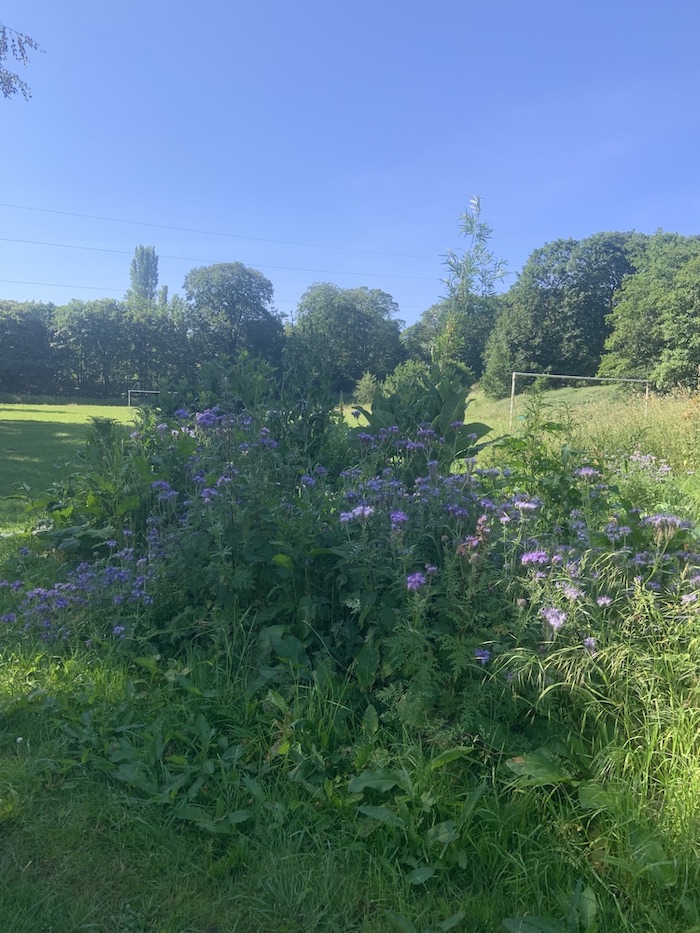 Their vision is for a nature hub and learning centre for disadvantaged young people, and they have started out on this by offering nature walks that involved fun activities as well as guides and information sheets. They plan to build a bird hide near to the proposed pond, possibly by repurposing an old boat store, and to create a bird and insect paradise by the canal.
The team would also like to find out what they have actually got here; so, surveys of flora and fauna would be really helpful, not just as a baseline, but also to recognise the assets they already have. This is publicly owned land, so the context is very different, and I would imagine at some point they will need to be able to demonstrate impact – whether in terms of carbon capture or a direct effect on young people's wellbeing and development.
As well as surveys, Tom is keen to find out more about how others manage wellness experiences, such as those run by Broughton Hall and Make it Wild.
It is interesting to be on council owned rather than private land. It isn't open to the public, but it is open to a wide range of young people, many of whom have been brought up in an entirely urban environment. Numbers vary by the season, but this June they hosted over 680 young people, so there is an incredible potential for education and access to a wilding experience.
The land itself will be used differently from many other projects described on the YRN website. The narrow twisting path we walked on through the bush area that is, Tom noted, "great for small birds" where we saw the fox, is also the motorbike trail, and the route down to canoeing on the canal. I loved this sense of everything mixed together and alongside each other, just as things are in an urban environment.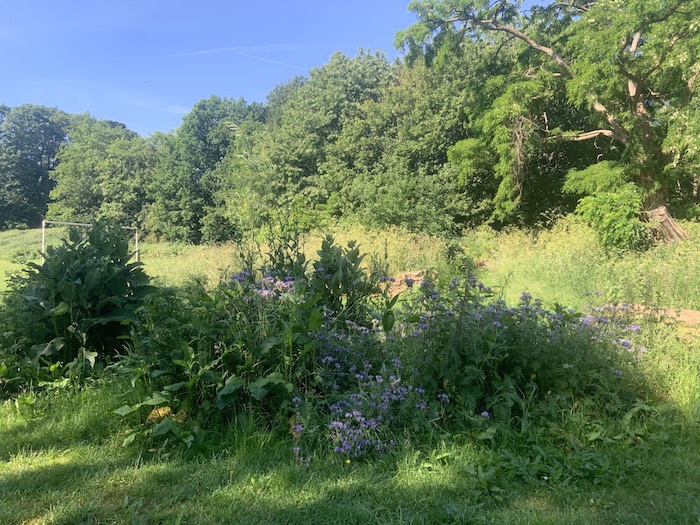 It will be exciting to see how this project develops – it's very different from those I have described in other visits. This isn't about planting trees and taking the sheep off to help nature recover in an overgrazed field, or about slowing run-off to create new habitats and reduce flooding. This is a site that has lots of trees and clearly has a great diversity of plant and animal life already; the journey here is almost more about human recovery – discovering what is there and working out how to be part of it and to grow with it.
Tom can be contacted at West Leeds Activity Centre: Thomas.Jepson@leeds.gov.uk