18th December, 2020
We asked the Yorkshire Rewilding Network committee members and volunteers to share how they became interested in rewilding and what inspired them.
Here are some of their stories…
---
Debbie Davitt – Trustee & Treasurer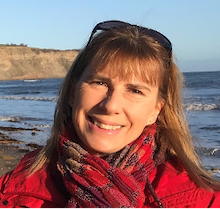 I grew up in Leeds, in West Yorkshire. Our neighbourhood was classed as 'inner city'. My family, however, taught me to respect and appreciate nature: the garden birds were fed every day; there were tadpoles in the pond; a kind and easy-going father let me collect the caterpillars from his cabbages and keep them in a large jar to watch the miracle of their transformation into butterflies; nature walks were free and there was always something to see. I didn't think anything of it.
Four decades later, in October 2017, the growing unease I was feeling about the state of nature was brought into sharper focus at an Ilkley Literature Festival event. I listened to Graham Harvey talk about his book 'Grass Fed Nation – Getting Back the Food We Deserve'. I didn't doubt his message for one moment – it all made perfect sense to me. Why didn't everyone know about this? The consequences of intensive agriculture were far greater than I realised but here, too, was a solution: work in harmony with nature. Yet what could I do with no direct link to the farming world?
Then, eight months later, came a chance reading of a book review and I ordered Wilding by Isabella Tree straight away (in hardback, what extravagance!). The effect was profound. Here was hope. I wrote and told her so and got a lovely, unexpected, letter in return. When the book came out in paperback I sent copies to all 11 MPs in the government's Environment, Food and Rural Affairs Select Committee (only 3 acknowledged the gift) as well as to friends and family such was my enthusiasm. Here was another solution – and one that perhaps I could get behind, with or without land.
The following summer my husband Jeff and I did a four-day residential course 'An Introduction to Rewilding' at the Centre for Alternative Technology run by Kara Moses. As we drove home from North Wales I reflected that there must be a growing number of people in isolation across the land keen to learn how to apply rewilding principles on a smaller scale yet they had no idea who or where to turn to for ideas or support. What was needed was some kind of network….
A visit to the rewilded Knepp Estate in August 2019 and a walk across the fields by the old castle. With every step the grasshoppers bounced and 'ping-ed' out of my way in such numbers! Here was an example of the 'abundance of nature' I had read about that once existed everywhere in our land. It was utterly glorious and uplifting. This is what 'normal' should be and could be. A short chat with Charlie Burrell led us to contact Rewilding Britain and, with some great people on board, the network was born.
---
Florian Graber – Volunteer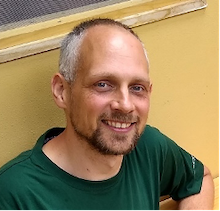 After a career in science & engineering I decided that I needed to change my path so I could contribute to mitigating the climate and biodiversity crises. In order to do so I quit my job last November, not knowing a pandemic was going to be around the corner!
I started volunteering and educating myself about ecology and conservation. I read all the relevant literature and slowly but surely (I am sceptical by nature) I got convinced by the benefits of a holistic view on ecology and conservation. And while life in uncertainty and unemployment remains difficult, rewilding offers a vision of hope for real change.
2021 promises to be a great year for rewilding!
---
Kate Graham – Volunteer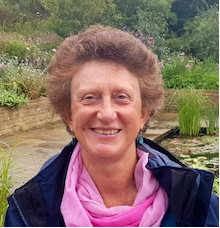 I have been aware of rewilding for some time, probably starting with hearing George Monbiot talk about Feral at the Ilkley Literature Festival. It felt exciting, but also a bit other worldly. And whilst what he said about sheep, compacted land, runoff and floods made sense, I couldn't see it really being put into practice. And then there were the wolves in Yellowstone: a very long way away.
Last year I read Isabella Tree's Wilding, which brought the whole concept to life for me. It filled me with hope and possibility and got me wondering what I could do to support similar initiatives. I reviewed the book for a professional magazine, gave copies to my friends, and contributed to funding for community ownership of land at Langholm in Scotland. I had decided that I wanted to devote at least 10% of my time and effort to natures' recovery, a sort of modern day tithing, but I hadn't worked out what shape this would take. Then I discovered YRN, based in my very own street, and was delighted when asked if I wanted to volunteer on the communications team. I'm enjoying this, and also finding that I have a renewed interest in transforming my garden (following Debbie's helpful tips on the Rewilding Britain website).
---
John Hartshorn – Trustee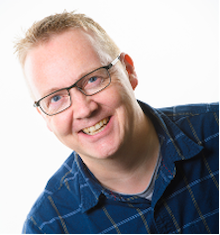 I had a very rural childhood running feral through the woods around my home in Northumberland, so I was well connected with nature from the start and loved it. I spent hours watching red squirrels in the trees opposite my bedroom window, and a treasured possession to this day is my copy of The Young Naturalist's Handbook from 1978. Many of my relatives on both sides were farmers but, alas, I never got the chance, my grandad having sold up when I was very small. But I did at least do casual work most weekends on my uncle's mixed farm – suspiciously mucking out cow byres for much of the time, or feeding sheep in frozen snowy fields from a cabless International Harvester tractor dating from a time when shire horses were not yet convinced that change was a-comin'. Stemming from all this, geography was a natural choice for me to study at university and after a few years studying and working in large cities, notably Leicester, Dublin, the London area, and in Ottawa, I itched to be back living rurally and so moved "back up north" to a tiny village in Nidderdale in 1997 where I've been ever since.
I suppose my love for all things wilder was properly triggered on seeing a moose and her calf set against a backdrop of pristine wilderness whilst on a camping trip (me, not the moose) in Ontario. It opened my eyes to wilder habitats and species, and I've had some fantastic and, often, unexpected encounters – from a wild wolf (almost in touching distance!), black bears, and orcas in Canada; ocean sunfish and basking sharks in Scotland; and forest reindeer in Finland. I can picture a near future in Yorkshire in which rewilding activities are dramatically improving biodiversity and abundance across the region, restoring and connecting ecosystems, habitats, and ecological processes, and at all scales.
As for my red squirrels… alas, they have long since been usurped. And the moose? Well, I'm convinced they conspire to follow me around and pop up randomly on road verges and on woodland hikes as I've now encountered them in Canada, Finland, Sweden, Norway, and Estonia.
---
Samantha Mennell – Volunteer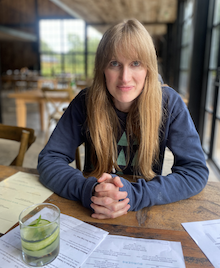 Four years ago we moved to Yorkshire from London and bought our dream house with rolling views of Nidderdale and an eight-acre field. We revelled in the clean air and watching our children becoming free-range, but I did feel a slight annoyance that we'd been lumbered with land for which we had no use.
Shortly after purchasing my beautiful house with its boring field, I picked up Wilding, attracted by the cover and feeling it might satiate my burgeoning curiosity about the nature that now surrounded me. The story of life returning to its land hit me with a force that left me sleepless at night. Nightingales and purple emperor butterflies filled my daydreams and I started to roam my field obsessing over every plant and escaped hedgerow sapling that was starting to make inroads into the sea of grass.
I fantasised constantly about what could be unleashed; what would my little piece of Yorkshire reveal to me once I had stopped trying to control it? What could it nurture and support? What did the land want to be?
I still wonder, as it slowly finds it natural rhythms and spaces, what it will eventually become, but usually I am too entranced by what has already found its way to us: the nightly call of the tawny owl, a clump of knapweed, clouds of butterflies. It is no longer a boring field but the most treasured part of our home.
---
Jessica Penrose – Trustee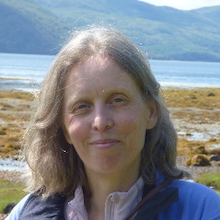 I'd like to say I've been a nature lover all my life, but the truth is I didn't start paying a lot of attention until I was in my thirties. I was late to the party, and by the time I arrived it was almost all over. I realised, with a growing sadness, that by the time I'd finally got around to cherishing nature, what I was noticing was mainly absence.
My first hook into rewilding was in 2018 when I came across a graphic novel, A Dream of a Low Carbon Future, edited by James McKay at Leeds University, which imagined a future Yorkshire in 100 years' time. Here people were not just adapting to climate change but thriving in a sustainable world – and a major part of that vision involved rewilding. An image that particularly struck me was a drawing of lynx hunting in a mixed Dales' landscape of open limestone and extensive scrubland and forest.
Soon after that I came across Wilding, which, as for so many others, took me to a place of hope and gave me a practical vision of what could be. Rather than tinkering at the edges of the problem, here was a way to let nature do what it does best – fill the gaps, diversify and generate abundance. I bored everyone around me with my evangelising, until a friend offered to introduce me to the only other person she knew who kept going on about it – and Debbie Davitt and I met and couldn't stop talking…
---
Jenny Watson – Secretary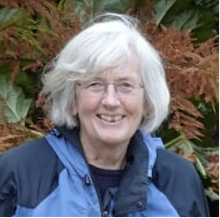 It may be a long journey – but I am optimistic that we can bring about healthy ecosystems in the UK!
However, our system of isolated nature reserves and SSSIs have not in themselves been enough to protect our natural heritage. Recognising the need for greater connectivity, around 10 years ago, the Wildlife Trust promoted the concept of 'Living Landscapes' that allow animals opportunities to move from place to place. To me, that made a lot of sense.
About 18 months ago I read Wilding. Isabella Tree's advocacy of allowing nature a chance to heal itself by setting aside some land and allowing natural processes to evolve strongly resonated with me. Another tool to tackle the decline in biodiversity!
We are all guardians of the amazing diversity of life on our planet. Wouldn't it be brilliant if we left this world in a better condition than we entered it.