by Jessica Penrose & Debbie Davitt. Photographs by Giles Rocholl.
18th March, 2022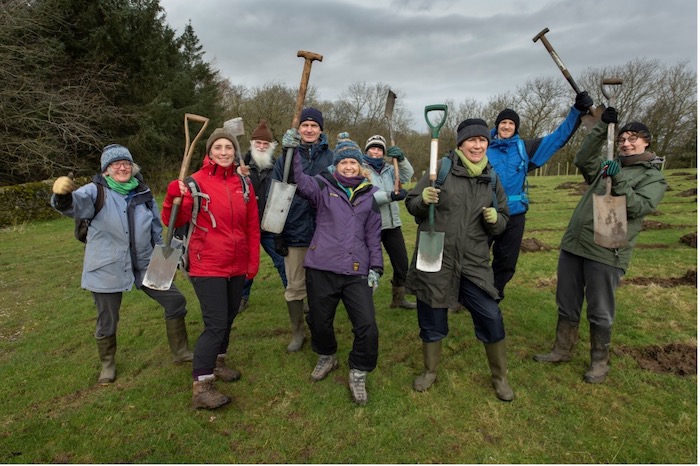 It's a reminder of why we rewild – the dappled shade of young trees, songbirds in the branches, a peaceful woodland glade filled with wildflowers and the quiet hum of insects: this is the vision for a new wood planted by the Yorkshire Rewilding Network.
On what had been close-grazed fields, trees now rise out of the ground – albeit very small ones at the moment! This is an area that is being filled with new life as part of a truly inspiring rewilding project. Broughton Sanctuary, near Skipton in North Yorkshire, is planting trees and encouraging nature to return on 3,000 acres of the estate. The project will also provide natural flood management in the Upper Aire Catchment as part of Phase 2 of the Leeds Flood Alleviation Scheme.
Much to our delight, Broughton Sanctuary generously offered space for a dedicated YRN Wood…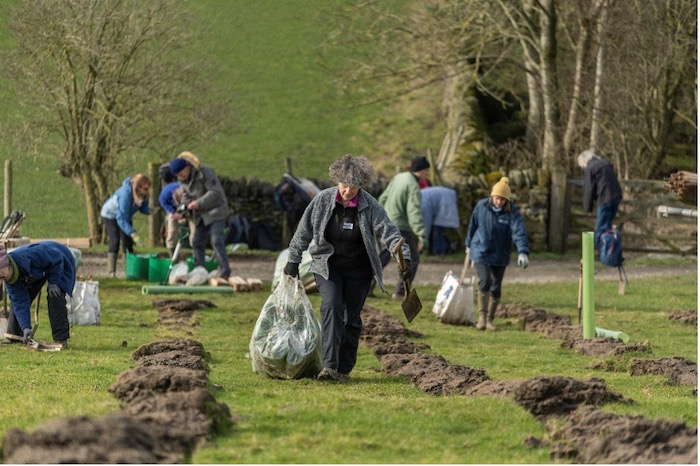 And so, in February 2022, YRN committee members and volunteers (old and new) spent a couple of Saturdays putting in 500 native trees in an area set aside from Broughton's main planting of a million trees over several years.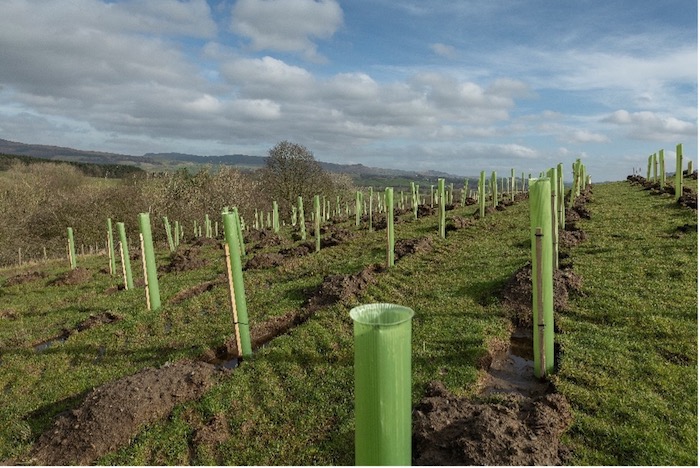 To get such a huge number of trees in quickly the estate's big-scale planting needs to be done by contractors in straight rows, but we wanted to make our wood look that little bit wilder, so we planted more randomly, with some trees close together, in wiggly and wandering lines.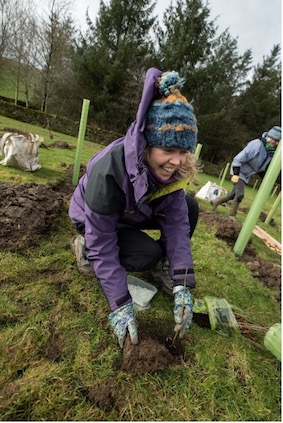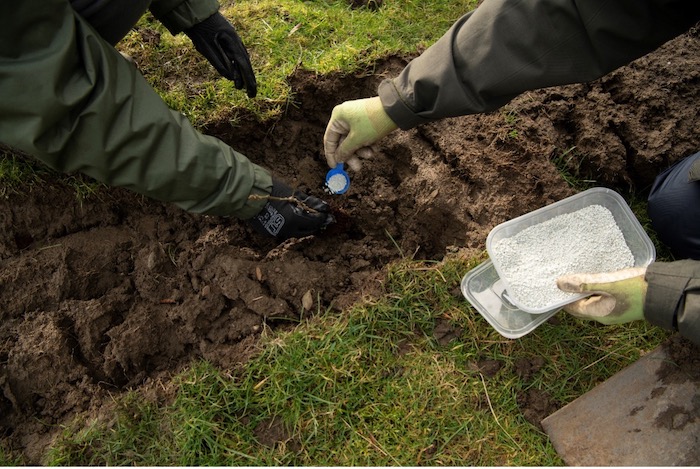 To try to give the young trees a helping hand, we sprinkled mycorrhizal fungi on the root balls. It's a bit of an experiment to see if will help them establish more quickly. This fungi is fascinating – it occurs naturally and forms a symbiotic relationship with plants and trees. It exists by taking sugars from plants 'in exchange' for moisture and nutrients gathered from the soil by the fungal strands. The mycorrhizas greatly increase the absorptive area of a plant, acting as extensions to the root system.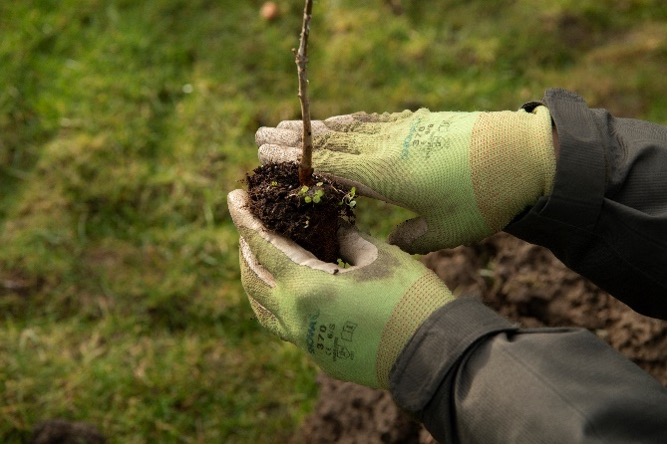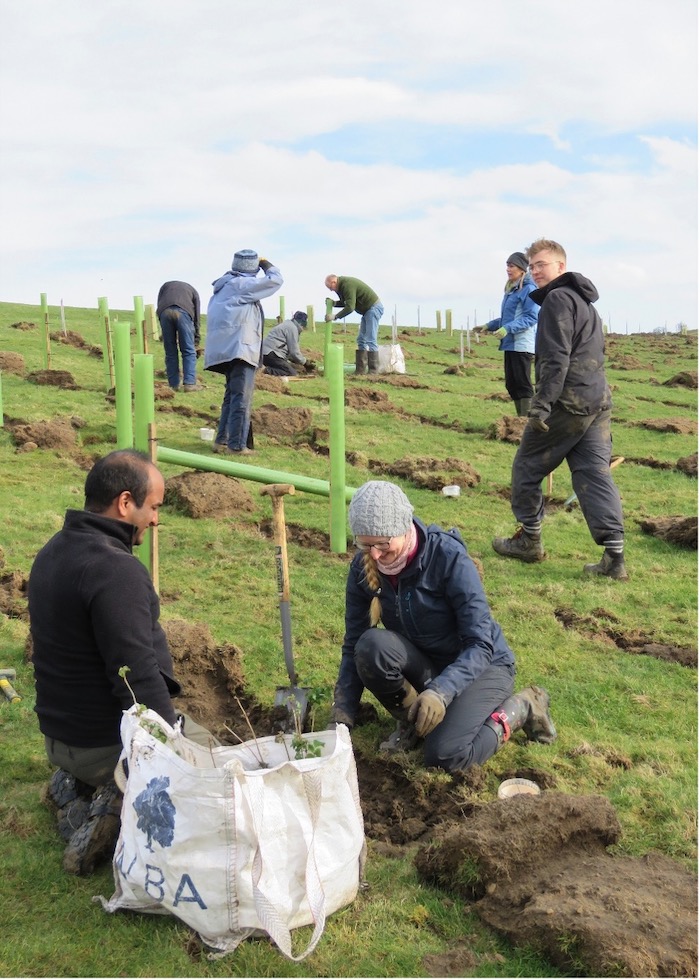 We left a large patch in the centre unplanted, to form a glade, and put a cluster of silver birch trees there (which have a head start on the younger trees so will create different levels of shade). Wildflower seeds were scattered around the glade in the patches of bare soil where there might be less competition from grass. A general meadow mix was used in the open spaces and a hedgerow wildflower mix among some of the trees (it's too early to use woodland species as these need the conditions provided by an established full canopy to flourish).
As a further experiment we left Yellow Rattle seed around the base of about 40 of the new trees, to see if it would help to keep the surrounding grasses in check (annual yellow rattle grows as a parasite on grass roots and thus reduces their vigour).
Although tree planting might not be seen strictly as rewilding, it allows natural processes to be kickstarted in an area where there is little tree seed available already. The new wood is on a west facing hillside, with fairly heavy soil, which had been closely-grazed by sheep for many years.
A recent survey nearby found only 13 bird species, so the hope is that the new trees and wildflowers will boost biodiversity and lead to an increase in wildlife, from the microscopic level of life in the soil, through to pollinators, invertebrates and small birds, all the way up to raptors and other predators. It will be exciting to see what finds a home here once we hand over to let nature 'get on with it'.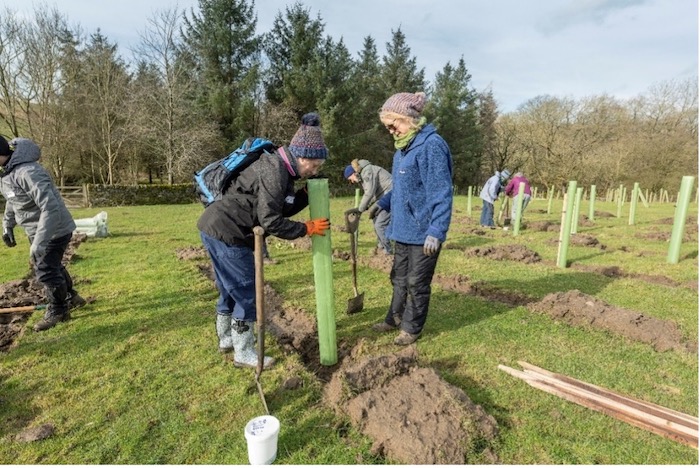 The sessions were a great opportunity to meet others, get chatting and networking whilst doing something practical. Thanks to the warm welcome from Broughton we had everything we needed, including hot drinks around a warm fire afterwards.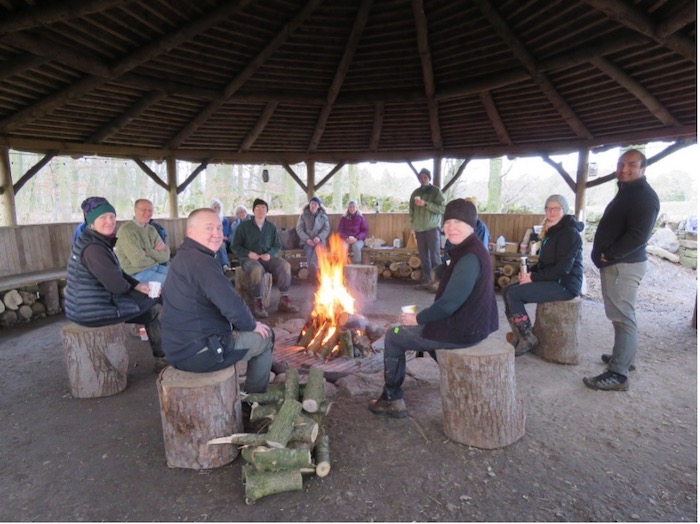 We plan to keep returning to the site to see how the wood develops and to check whether our additional work speeds up establishment compared to the surrounding tree planting. The glade will provide the perfect spot for YRN get-togethers, and could be used as a base for more volunteer activity, such as mini 'bio blitzes' to look for increases in biodiversity and to practice surveying skills.
We hope that this is just the start. It is not YRN's aim to buy or own land to rewild and the wood at Broughton remains entirely in their ownership, we simply had permission and help to do the planting. It would be wonderful if other landowners out there are open to similar collaborations. If this is you then please get in touch, we'd love to hear from you!
…Imagine a network of YRN woods across the whole of Yorkshire – now that would be something!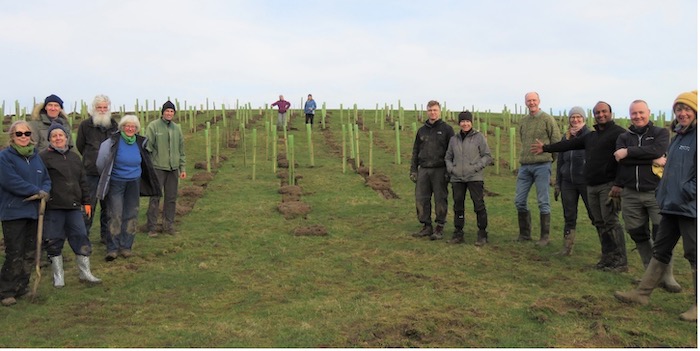 Further info about the YRN Wood:
We added two different mixes of wildflower seeds – in the glade area:

In the glade: Emorsgate Mixture: Special general purpose wild flowers EM3F (Quantity: 0.15 kg)
Around the edge of the glade: Emorsgate Mixture: Wild Flowers for Hedgerows EH1F (Quantity: 0.25 kg).

Funding for the trees, stakes and guards came from the Environment Agency
We planted 500 native trees comprising two species of oak, elder and hornbeam.
Tree guards were needed because of rabbit and deer browsing. Non-plastic options are sadly not as reliable and not available in sufficient quantities yet. All the guards will be removed (and recycled where possible) in four or five years' time once the trees are well established.
To find out more about Broughton Sanctuary tree planting see the related YRN story here
Broughton Sanctuary website can be found here
To find out more about the Leeds Flood Alleviation Scheme click here.
For more information about World Rewilding Day click here