by Kate Graham
16th December, 2020
"What I love most is seeing the barn owls hunting during the nesting season, swooping over the pasture picking up voles, shrews and mice. We also have long eared owls, tawny owls, little owls and most recently short-eared owls as well. Almost all from rewilding. It's wonderful.'" Tim Hammerton.
Tim Hammerton bought his land 28 years ago, from the Coal Board: he was looking for a paddock for his horse, and ended up with 25 acres and a barn suitable for renovation (now the family home).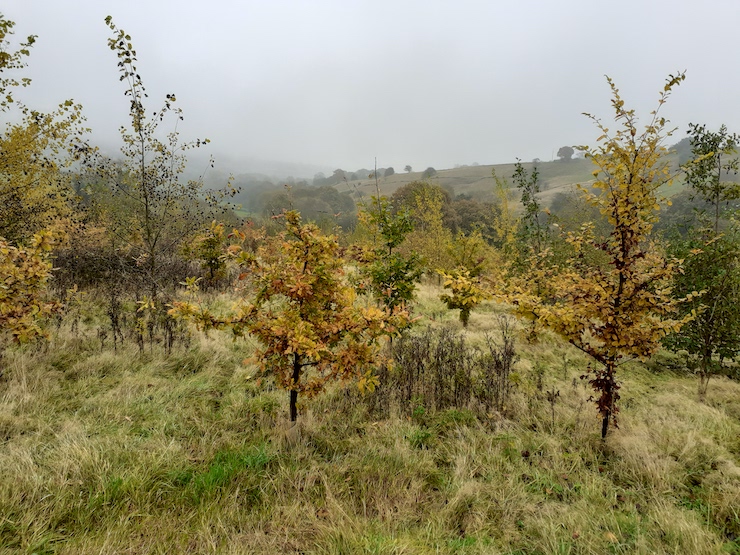 The land is in the hills between Dewsbury and Huddersfield. It faces south-east, and slopes gently down to a stream at the bottom of the valley. On one side it is bordered by mature oak woodland, and on another by a dairy farm. Across the stream there is scrubland – a former pasture grazed by sheep that was effectively left to rewild for 25 years – while a large slag heap (the land was once mined) has also naturally rewilded itself over the last 50 years, creating a mosaic of oak and birch woodland. Hedges border the fields (these were laid early on to improve the security of the boundaries) and have been similarly left to grow.
Tim didn't set out initially to rewild his land: he first used his fields for a venture into amateur horse breeding, and once this hobby became too time consuming, rented his land to a local farmer for growing cereals. It was during this time, when he saw the amount of sprays, pesticides and fertilisers that were being pumped into the fields, that he realised a change was needed. This treatment of the land seemed at odds with Tim's long held love of nature and so he looked for inspiration elsewhere.
The book that started his rewilding journey was George Monbiot's Feral, published in 2013. 'It all made sense,' says Tim. 'It put words to what I had been thinking for years. I had a clear sense of what I needed to do – and not do.'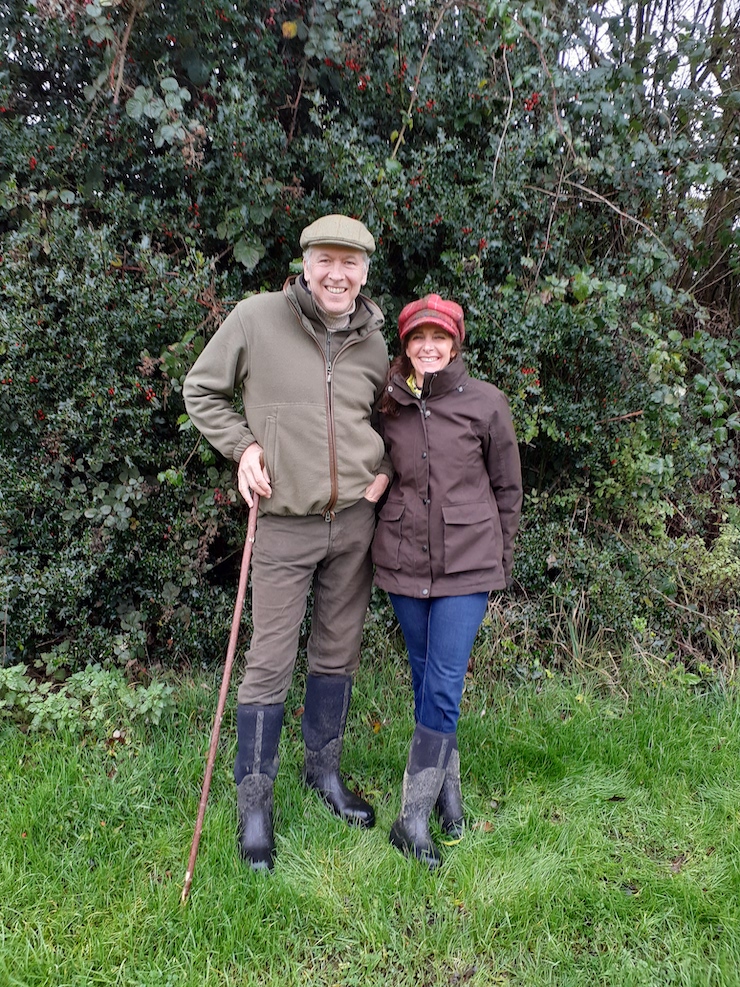 Tim and Diane Ratcliffe, his partner, who shares his passion, both took early retirement and set about planting 4,000 mixed native deciduous trees over the next 5 years (many of which are now well established). Initially their efforts were self funded and they did most of the planting themselves; later they received help from the Woodland Trust, who provided the trees via Bradford Forest.
The couple also put up nesting boxes to provide much needed habitats for owls and other birds. They were delighted when a pair of barn owls moved in four years ago, and have been breeding in the same spot ever since. So far 12 young have fledged successfully.
The remaining fields have been intentionally left to grow, with no intervention by Tim and Diane, other than digging a couple of small wildlife ponds. In these areas, the grass has very quickly become more diverse, with sorrel, knapweed, and teazels. As these grasses have appeared, creating a new habitat, so have the moths and butterflies. In one field self-seeded sallow (goat willow) has taken hold, giving hope that Purple Emperor butterflies may be spotted there in future. Bird species that were once absent have also returned to the site: birds of prey such as kestrels, buzzards and sparrow hawks are now common sightings; hobbies circle overhead through the summer; and one by one the more unusual owl species were spotted. An array of small mammals provide these majestic predators with an ample food source!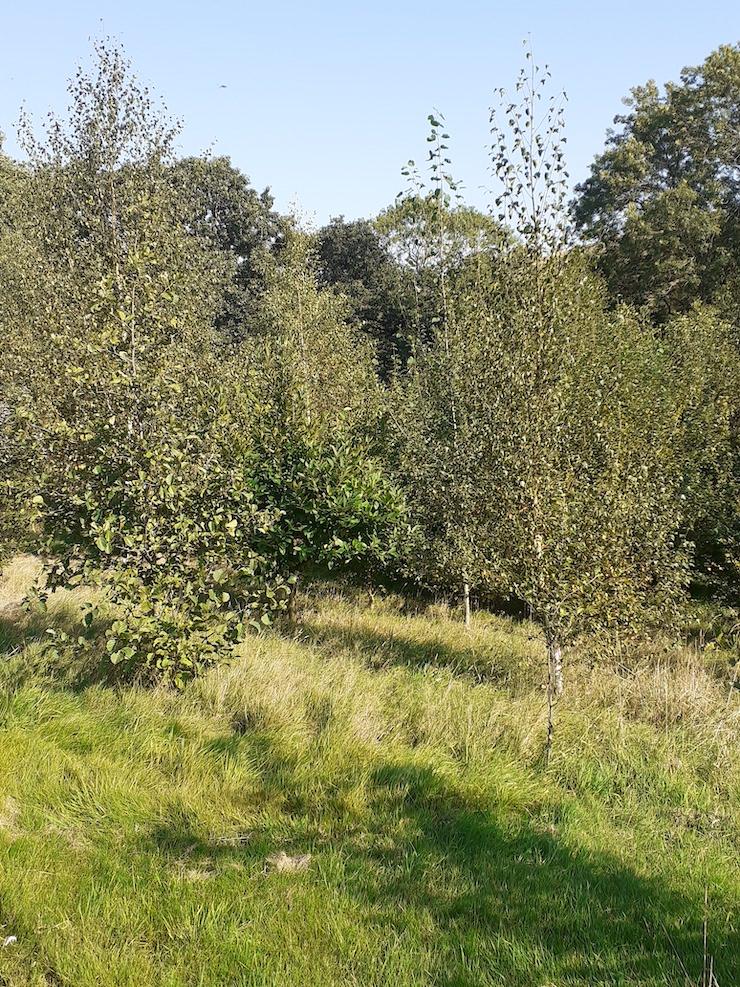 Having never been trimmed, the hedges Tim planted and laid originally are now a rich, fully grown mix of hawthorn, blackthorn and other small trees. I imagine part of the success of his grassland rewilding without intervention is due to the proximity of these hedges, the woodland that has developed on the slag heap, and the established wood and scrubland nearby.
"It is hard to put into words the joy of seeing land move from being seemingly 'productive' in farming terms to a state in which it may look as if it is abandoned, but is actually home to a burgeoning delight of wildlife; with more animals, insects and birds arriving as the habitat develops to welcome them," explains Tim. "It really challenges us to consider the value of land and what 'productive' use actually means."
By far the biggest input from Tim and Diane has been tree planting, and one question they're still pondering is whether they would use plastic surrounds again. At the moment they are carefully removing them (a bigger task than planting the trees in the first place) for re-use at another tree planting project in the Dales.
The first year's trees were protected with rabbit spirals, as at that time rabbits were the main concern (though they were subsequently much reduced by an epidemic that killed the majority of rabbits in the area). Roe deer started appearing in the second year of tree planting, but didn't seem to do much damage.
"If I was younger I wouldn't have planted any trees at all," says Tim. "I would have left them to seed and grow naturally. But I don't have 50 years to wait, so it's worth planting the trees. Maybe they would have managed without the plastic (as naturally regenerated ones do). I don't know."
Local observers regarded Tim as someone who must have a pile of money to burn as they watched the tree planting; and there were some raised eyebrows as plastic coated saplings appeared over the fields. Otherwise, their work has gone on quietly and undisturbed — good news for Tim and Diane, who are concerned for the vulnerability of the birds of prey that have chosen to make this land their home.
So what would Tim's advice be for other people considering a similar project?
"If you have the land, just try it. Look at what is around you, work out what habitats are missing and how you can help provide them. Be confident to let go and simply see what happens."
And what are the couples' plans for the future? At this point Tim and Diane are considering getting a couple of Exmoor ponies to graze and root around, in the hope of creating some diverse micro-environments. Watch this space…
In the meantime there is a great deal to enjoy and celebrate, and Tim would be delighted to offer advice to anyone undertaking something similar. You can contact Tim via YRN using info@yorkshirerewildingnetwork.org.uk.