by Kate Graham
30th March, 2021
Just over two years ago, Tricia Bryant started looking for some land, close to where she lives in the village of Great Ouseburn. A gardener by profession, she had downsized to a house with a small garden and needed more space. She faced the choice of leaving her home of 33 years to find somewhere with more land, or seeing if she could buy something locally. She was fortunate to have inherited some money from her godmother, a woman who was passionate about gardening and who inspired Tricia to make this her passion too. Tricia contacted all the local farmers and at first it seemed hopeless, but eventually one did point her to the owners of a piece of land, quite close to where she lived.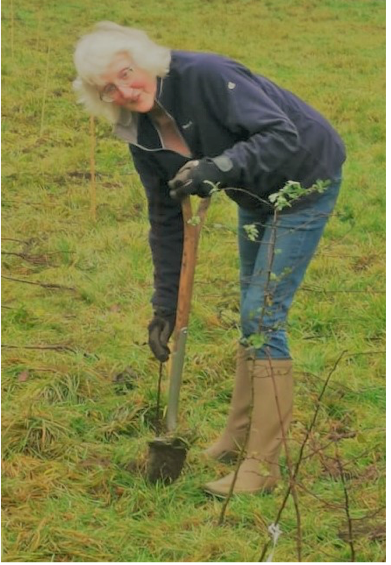 This was an old meadow of 5.8 acres, in a very neglected state. The meadow hadn't been cut for seven or eight years, and the hedges were unrecognisable. It was also a popular place for people to walk through (though not on a public right of way) and she describes it as having "a mystical sense of place". It had lovely views, including over to the white horse at Kilburn, and despite the neglect was a beautiful spot, with a sense of peace about it.
She wrote to the owners. They were happy to sell, and she was delighted to discover that the meadow is shown on maps as early as 1850 as "Cowslip Meadow". She completed the purchase in September 2019 and set to work. At first she wasn't quite sure what to do: she felt very privileged to own the land, but it was also a big responsibility. She imagined a swathe of wildflowers, possibly some ponds, a place of peace and beauty.
She started by cutting back a lot of the blackthorn hedging, leaving some thickets for wildlife. This gained her about half an acre, and whilst it looked drastic at the time, it has thickened the hedges, helped by additions of ivy and holly. She has sown ancient grasses and wildflower mixes, which have all taken well, and she has harvested the seeds and will gradually introduce these across the meadow.
Tricia also started active management to encourage the cowslips to return, cutting the grass in the centre of the meadow for hay, and some of the areas around the hedge. Now it is a question of waiting to see what will come up naturally. Many villagers have told her about the meadow once being covered in cowslips, so she approaches 2021 with hope that these will emerge once more.
So far she has planted about 50 trees, deliberately moving slowly, a little at a time – wild cherry, rowans and oaks in a corner of the meadow, and a native hedge of hawthorn, dog roses, field maples and cherry.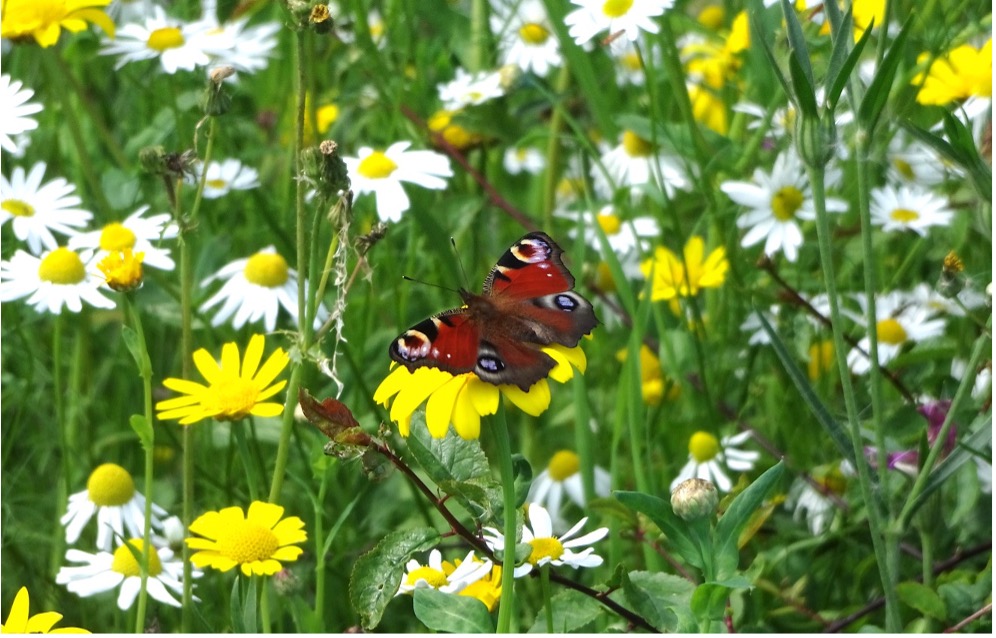 Taking a rewilding perspective is very different from conventional gardening, and Tricia found it frustrating to start with: "In gardening you get results quickly. You can even make an instant garden. But this is different. Here I am planting for the future, for years ahead. And I don't know how it will work out", she explains.
For Tricia the meadow is like an oasis. All around, farmers are ploughing, sowing, spraying, harvesting, and ploughing again, a sense of constant movement. In contrast her meadow is a place of stillness where plants, animals, insects and people can stop and find their own way together. Her greatest delight so far has been the wildflowers, which were wonderful in the summer of 2020, and attracted a great range of insects and butterflies. Her main challenge has been that "it's only me": she has done most of the work herself, with some help from her adult children and so far, it is all self funded. It is physically hard work, as there is only limited vehicle access and at some times of the year everything has to be carried to the meadow. People from the village have stopped their casual use of the land, respecting her ownership and the work she is putting into it. The biggest reward is seeing increasing numbers of wildlife: barn owls flying over, two buzzards visiting regularly and hares starting to bound around the grass. She has also released four hedgehogs into the area from a local rescue centre. Her next step is to get funding to build some ponds: there are great crested newts in the area, so this may help her applications, which are currently under consideration.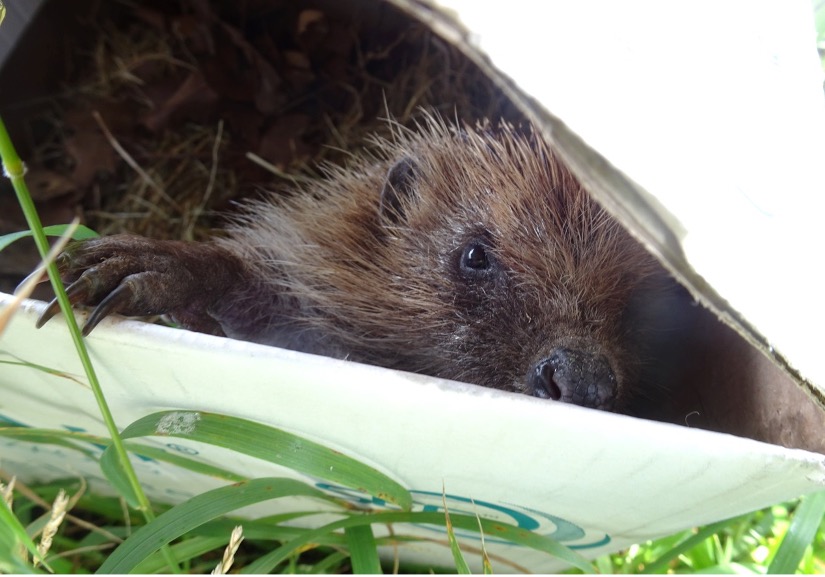 "It's my dream come true," she says. "It feels like I have a little piece of paradise. I hope it will be a place where my grandchildren can come and learn to love being in nature."
Tricia's advice to other people contemplating a similar venture reflects the amount of work involved at the start and the need to go gradually:
Do what you can manage
Don't do too much – for example, if you plant loads of trees they will need a lot of maintenance
If you have friends and family to help you, you can do more
Don't feel pushed into doing something that is on too big a scale.