by John Hartshorn
20th May, 2022
---
At the end of April, 14 members of the Yorkshire Rewilding Network's committee and core volunteer group headed off up the M6 and crossed the border into Scotland in search of inspiration on a 4-day tour of sites across Dumfries and Galloway and the Scottish Borders.
Williamwood Farm
The YRN takes the view that rewilding is the restoration and development of natural ecological processes that can be along a broad spectrum of scales and with varying degrees of human management and "green economic" activities, so it might be of little surprise that our first visit was a farm.
Within striking distance of Carlisle and the Lake District, just north of Gretna, lies Williamwood Farm. Our host, Michael Clarke, is Scotland Chair of the Nature Friendly Farming Network and the farm is a 300-acre beef and sheep farm just an oystercatcher's foray from the Solway Firth.
After an introduction to the history of the farm and his motivations for supporting nature, Michael took us around on well-marked and signed trails. The farm has a mix of pasture, flower-rich meadows, ancient woodland, hedgerows, and a lovely wooded burn complete with badger set, hide, and cameras to stream the mustelids' antics to the holiday cottages on the farm. Michael and family have been planting a number of new native-species woodlands and an orchard, and perhaps the star habitat created in recent years is the loch – a very large pond that was a huge undertaken when first created and now rapidly becoming well established, attracting a range of birds although, according to Michael, not without its share of maintenance challenges!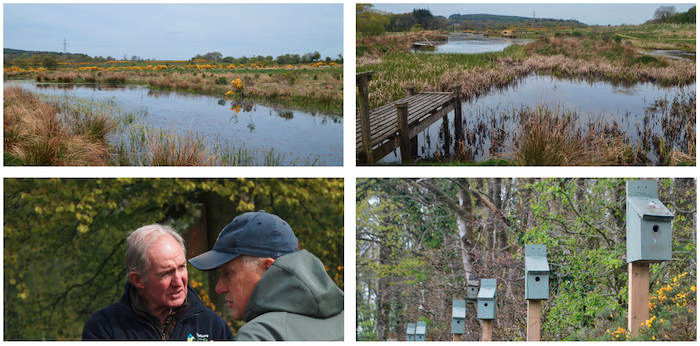 There are nest boxes everywhere with perhaps the most impressive accommodation being an entire "street" of Michael-made nest boxes for tree sparrows. Alongside the loch and hidden in the vegetation are nesting baskets and there are floating nest platforms as well as a couple of hides specially positioned for watching wading birds. Although also being a working farm, the Clarke family have renovated and rent out a couple of farm cottages to holiday guests and they also have a small campsite. The entire place has a focus on ensuring guests can learn about and simply enjoy nature in a traditional farm setting.
It's likely that much of the potential for ecological restoration and rewilding in Britain over the coming years is likely to be within agricultural landscapes and in a farming context, whether it be improving the entire ecosystem of a farm through regenerative farming practices or as a consequence of the restoration of multiple small and connected habitats across a farm or cluster of like-minded farms. So, although the rest of our site visits were going to be more closely aligned with what most people would think of when envisaging ecological restoration and rewilding, it felt right to start with a nature friendly farm and farming family.
The Borders Forest Trust's Wild Heart sites
For our second day, the weather was exactly as we'd hoped – a vivid blue, almost cloudless spring morning, alive with calling of recently arrived willow warblers. Our day was spent with the Borders Forest Trust touring the 3 sites that make up their "Wild Heart" portfolio. Our hosts for the day were Dr Philip Ashmole (founder, no less) and Stuart Adair (ecologist) from the Wildwood Steering Group committee, and Adrian Kershaw who is both the Trust's Corehead Site Officer and their Engagement Officer for the Wild Heart sites.
We began at Carrifran Wildwood, a 1620-acre valley that was the Trust's first site and has been undergoing ecological restoration since the mid-1990s. It's rich flora and fauna is in stark contrast to the neighbouring hillsides which are still under more intensive grazing or commercial forestry. After a walk up (and then back down) the valley with our guides describing the work that has been done, is planned, and how various habitats are developing, we headed off for a roadside overview of the Talla & Gameshope valleys site that the Trust acquired in 2013. It's to the north of Carrifran Wildwood but joins onto it. Until the purchase it was a heavily grazed sheep farm. Significant tree planting, montane scrub restoration, and bog restoration work is well underway and the Trust has been pleasantly surprised both by some specimens of rare montane plants that have survived amongst the crags and screes, and by some of the natural regeneration that has begun in places.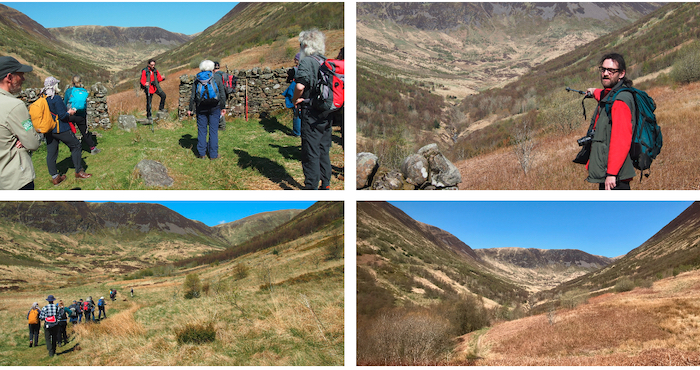 The third site visit of the day, which was by now edging towards late afternoon, was the Corehead site which includes the Devil's Beeftub – a 150-metre deep bowl shaped hollow formed by 4 surrounding hills. Acquired by the Trust in 2009, the focus of this large site, which stretches across several dales and fells, is the restoration of native woodlands, wetlands, and heathlands across what is a huge area. Being close to Moffat, there is also more community-engagement at Corehead with various local groups involved in nature restoration, education, and a range of sustainable community uses of the site. It almost, but not quite, joins up with the other 2 sites in the Wild Heart. Archaeology is also an element of this site and care is being taken to ensure it remains a key part into the future.
All in all, the range of ecosystems and the restoration plans and activities for the 3 sites made our day in the Wild Heart, well, heartening! Our day was not yet done, however…
South of Scotland Golden Eagle Project
We were delighted that Dr. Cat Barlow, Project Manager of the South of Scotland Golden Eagle Project met us for the evening at the Annandale Arms Hotel in Moffat for a truly uplifting overview of the project, which is seeking to bolster what was a fairly threadbare population of golden eagles in the Southern Uplands. The whole approach to relocating "surplus" eagle chicks from some highland sites where 2 chicks had been hatched meaning that 1 could be safely removed from the nest and translocated to the project sites in the south was amazing to see, including via the medium of some amazing short films of how the translocations were undertaken. But perhaps what stood out to us the most was the success the project had in engaging the full range of vested interests, some of which may previously have been less than supportive of the managed increase in the population of the top avian predator. Cat explained that a key member of the project team was a well-respected retired game keeper who both advised and gained the trust and support of many of the stakeholders and this, aided by giving each translocated eagle a name and then engaging communities and schools through outreach and education, has been key to the project's success. Indeed, the eagle population is growing steadily with forays of some of the birds into Northumberland and Cumbria, with Yorkshire only being a matter of time. Rewilders have often been seen or portrayed to be at odds with some rural vested interests with differences of opinion being stoked by the media to some extent. But a key lesson learnt throughout this trip, and particularly from Cat and her project, is how much common ground there is across the broad range of interests and how it's perfectly feasible for reintroductions, restoration, and rewilding to align well with all those already making a living in the countryside. Perhaps that's why rewilding is seen as the more hopeful of the smorgasbord of approaches to conservation and the restoration of nature.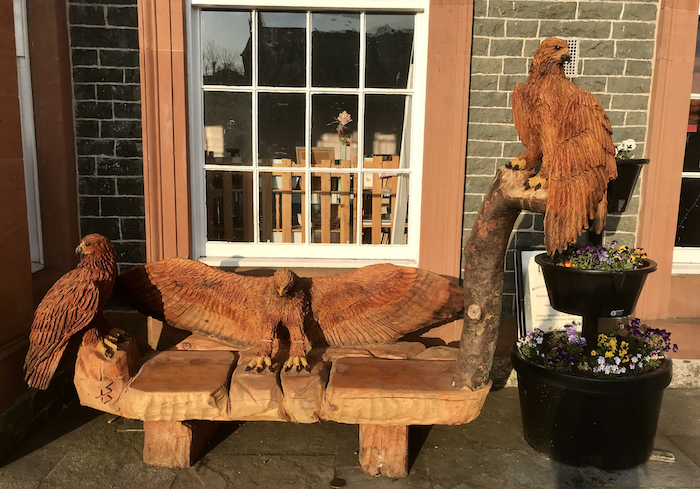 Glenlude
The third day of our tour took us to Glenlude, a 149-hectare site on the edge of the Southern Uplands that is managed by the John Muir Trust. It's a former sheep farm and commercial forestry plantation that was gifted to the Trust by the late Sheila Bell in 2003. Sheila had lived on site and started the process of restoring the site to a more natural state. The Trust is continuing her work with volunteers and community groups working to restore and create a mosaic of native habitats, as well as built some of the infrastructure that makes volunteering and visiting the site an inclusive and comfortable experience. Our host was the Glenlude Property Manager, Karen Purvis, and she guided us across the entire site, showing us the various restoration projects that are underway. The commercial forestry is gradually being reduced at the site, speeded along by the issuing of a statutory plant health notice requiring the Trust to remove larch plantations infected by Phytophthora ramorum, a fungal-like organism that kills the trees. In fact, we could see a number of commercial plantations from the site that have also been undergoing similar larch removal. But the more recent native trees that have been planted are now transforming the site. We were not the only ones appreciative of the Trust's work – a pair of crossbills put on a brief show of support from an aspen tree!
As Karen explained, a huge focus for the site and the Trust is to engage people both locally and from the cities and especially those who don't get out into natural environments much, perhaps through not being able to access them where they live or the circumstances of their lives. Volunteer groups are shown how to plant and care for trees, monitor plants and animals that inhabit the site, and how create habitats. Particularly impressive are the brash hedges which are created as a more sustainable way to protect young trees from roe deer browsing. But volunteers have also built all of the infrastructure – from a tree nursery complete with poly tunnel, to a composting toilet.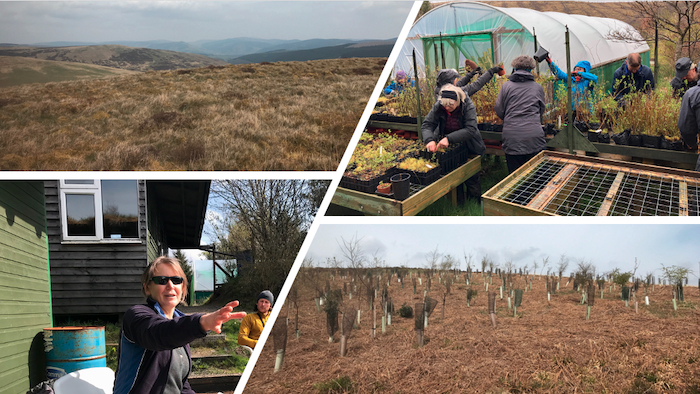 Given how much the recent pandemic highlighted everyone's desire for increased access to outdoor spaces and nature, Glenlude is another example of just how much people can benefit from ecological restoration and rewilding projects, and how important local community engagement is.
Tarras Valley Nature Reserve
Our fourth and final day took us south to within a few kilometres of the English border, to Langholm in Eskdale. If you've kept up with environmental news over the past year, you may know that the Langholm Initiative, a community development trust that was formed in 1994 as a partnership between private and public sectors, has overseen the fundraising and subsequent community purchase of 5,200 acres of nearby Langholm Moor and the Tarras Valley from the Buccleuch Estates. It took ownership on 25th March last year and established the Tarras Valley Nature Reserve the very next day! This was the largest community buyout of land to date in the south of Scotland and perhaps sets a precedent for future such buyouts.
We were talked through the whole timeline and its various ups and downs by Margaret Pool, Chair of the Langholm Initiative, and her colleagues Angela & Mairi – all over a round of coffee, tea, and an extensive range of Margaret's homemade cakes! Perhaps inspired by the success of the original fundraising and subsequent buyout, the Initiative is now close to raising a second funding package with views to buying a further 5,300 acres from the Buccleuch Estates which would double to size of the reserve.
The morning's heavy rain magically cleared and was replaced by increasingly blue skies so, of course, we had to go up and see the reserve. It's a fantastic site, already regenerating well now that grazing pressure has been almost entirely reduced (there is still a herd of feral goats at large!). The air was filled with the calls of curlew, willow warblers, and we were treated to a flyby by a pair of hen harriers before reluctantly prizing ourselves away and hitting the road south back to Yorkshire.

This 4-day tour was truly an inspirational journey around sites and real projects covering a range of sizes from farm-scale support for improving nature, through a relatively small site in transition at Glenlude, and on right up to landscape scale restoration at the Wild Heart sites and Tarras Nature Reserve. And, of course, it was equally exciting to learn about translocation of a species to bolster the local population, plus how outreach, inclusion, and the involvement of all stakeholders is so important for successful outcomes, and how communities can take control of their local "patch". Without fail, our guides were the key to making this tour such a success. They were warm, entertaining, and hugely knowledgeable and had all given up their time to meet and guide us. We are immensely grateful to them. Perhaps the best summary is from one of the other members of our group, a seasoned practical conservationist: "All of our hosts were hugely knowledgeable and passionate, and immensely generous with their time. I doubt I'll ever go on a more inspiring trip."
I should also give a big thumbs up to Moffat, too. Not only is it a lovely town in a beautiful setting and landscape, but it's also a focal point for the South of Scotland Golden Eagle project having organised the first ever Moffat Eagle Festival in 2021. And the good news is that it's running again this year from 16-18th September.
In terms of our rewilding tour having contributed to the local economy, we probably spent a reasonable amount per person over the 4 days as all 14 of us centrifuged out across a range of hotels and AirBnBs in and around Moffat and, of course, frequented some of the local subsistence establishments in the evenings. And, yes, each project we visited received a private donation from the group.
And on a final note, a huge thanks goes to YRN's Chair, Jeff Davitt, who organised the whole trip.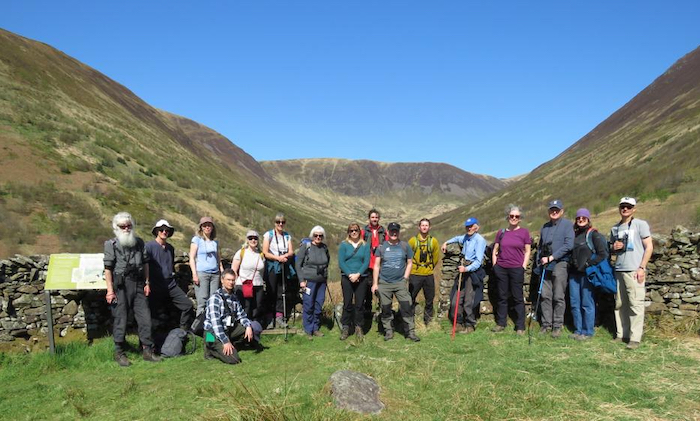 ---
Links:
The Borders Forest Trust's Wild Heart sites:
---