Samantha Mennell, YRN Trustee and Festival Director, explains a bit more…
1st March, 2023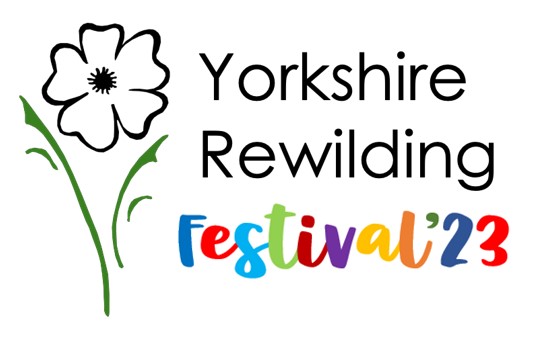 When we came up with the idea of a regional Rewilding Network, we knew that making connections would be at the heart of it. That means creating better connections between those passionate about healing the land, between the people of Yorkshire and the nature that surrounds them, and between communities and neighbours to spread the message and share the experience of rewilding.
The idea of a festival was born out of this passion and a belief that you achieve so much more with a message of hope, and that when you bring people together it creates the sort of fantastic 'buzz' that builds positive momentum. We wanted to create an opportunity to explore rewilding through the arts, through debate and open discussion and through community gatherings. When we look at rewilding through different lenses and mediums it helps to strengthen the bonds between ourselves and the world we are a part of. We hope it also makes for a joyful experience.
Rather than have one event over a day or a weekend, we will host a series of different events over a few weeks to enable us to reach a broader audience across the region. As rewilders, it's good to let nature take the lead; we continued this philosophy with the festival by allowing the characteristics of each opportunity to invite the event we would hold there and the different audiences it might appeal to. Read on to discover more details about the various events that make up this, our very first Yorkshire Rewilding Festival.
We hope you agree that there is something for everyone and we can't wait to gather together and meet you!
---
Reimagining a Rewilded York
Tuesday 13th June 2023, York
An evening of open discussion with a panel of guest speakers
We wanted to create an event deeply rooted in the city of York and focused on urban rewilding, so we worked with local volunteers to understand the city and who would be best to approach. We wanted not only ideas but imaginations to flow, and so we searched for speakers passionate about the potential locked away in our cities. As a result, we will be looking beyond how rewilding can help biodiversity to how it could change the very infrastructure of York and the community experience of its residents.
To complement and enhance the discussion, we have commissioned the artist James Mackay to attend the evening, creating a canvas of a future rewilded York based on our speakers' ideas for York.
When we heard that York Festival of Ideas' theme for 2023 was 'Rediscover, Reimagine, Rebuild', we knew that Rewilding had to be part of it, and we are happy to say this event will be part of their festival.
---
Music and Words in Nature
Friday 23rd June 2023, Otley
Evening, open-air event
This unique, intimate event will start in a meadow near Otley before the audience is led into the woods for a night of spoken word and music. We have commissioned story-teller Matthew Bellwood to create our own rewilding story, which he will perform with musicians responding to his words. This isn't a night for intellectual thought but to connect with our more emotional sides, our place in nature and how we can heal it.
---
Rewilders' Day
Saturday, 24th June 2023, Otley
A day for those actively involved in rewilding
This day is for those already rewilding to connect, share knowledge and experience, and learn. We are pleased to be hosted at Farnley Hall near Otley and will use its land as a jumping-off point to discuss rewilding. There will be panels and talks, but we will also walk the land with experts from the natural and rewilding world and engage with an artist to reimagine what could be… We want those who attend to leave feeling more inspired, confident and connected with their rewilding adventures. A sense of place plays an integral part in the day, and Wildlife Friendly Otley is partnering with us on this event to give us local insights.
---
Chevin Discovery Day
Sunday 25th June 2023, Otley Chevin Park
A day out for all the family
Passing on our passion to the next generation (and inspiring their parents) is what this day is about. We are working with artists to create hands-on and playful experiences at Otley Nature Network's family day on The Chevin. This is about exploring through play, craft and art what rewilding is and what we can all do to help. We can't wait to welcome you to the day and have lots and lots of fun!
---
YRN Festival On Tour
Dates and Venues to be announced – events held on Rewilding Sites across Yorkshire
To reach out across the region, we will work with sites where rewilding is already happening. These will host various workshops and activities with inspiration from the rewilding happening all around: Guided walks; Wildlife identification; Connecting with Nature; Poetry and Creative Writing groups; Art and Crafts.
---
How to book:
We are not quite there yet but more details and booking information will be released soon through the YRN Forum and by direct mailshot. Do make sure you are signed up to our newsletter.
---
The Committee adds a big 'thank you' to Sammy and her volunteers who are working hard to create and plan the events and to the organisations helping to make the Yorkshire Rewilding Festival 2023 happen.
---
Our sponsors to date are:
Rewilding Britain
Clarion Solicitors
If you or your business are interested in becoming a sponsor please email festival@yorkshirerewildingnetwork.org.uk. Sponsorship is available from £1000.
---