by Kate Graham
26th April, 2022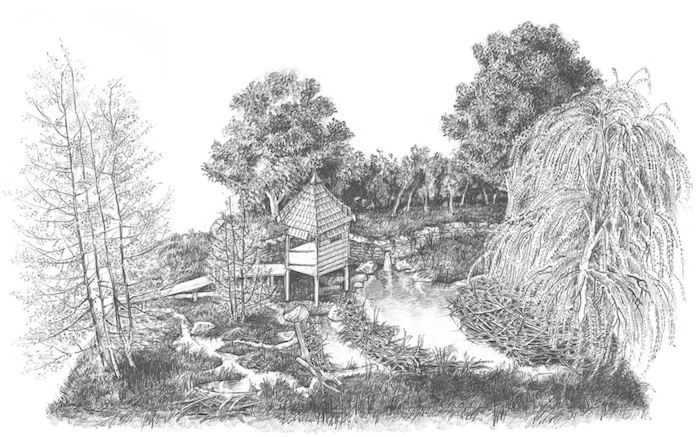 When the YRN put out a call for volunteers to support the A Rewilding Britain Landscape garden at the Chelsea Flower show I jumped at the chance. I haven't been to the Show for nearly 30 years: the last time was a volunteer for WaterAid, the charity I worked for. I'm very excited to have this opportunity to spend time in this specially designed rewilded space. I'm hoping it will inspire me, as much as all those who come to visit it.
The Garden itself has been designed by Adam Hunt and Lulu Urquhart, and it shows a rewilding landscape in South West England, after the reintroduction of a native, keystone species – the beaver. It shows the transformation that the beavers – our natural ecosystem engineers – can create.
It is a landscape, rather than a domestic garden, with its centrepiece a pool dammed by beavers and the beaver's lodge, constructed around a large white willow. We don't get to see any beavers as far as I am aware, but we do see the wood sticks, and tree debris that make up their food and dam supplies, and most importantly, the impact of their activity on the landscape and all the grows in it. The dam lets water trickle through to spread out across a meadow in which alder trees are growing. The brook flows on through a glade of hawthorn, hazel and field maple and a winding stone wall. The meadow is full of native wildflowers and grasses, with marginal plants by the pool and stream.
I'm not expecting the experience to answer my ponderings on my own garden and whether rampant ground elder and ivy really make it a wild garden or just an unkempt and overgrown one. I do hope though to feel a sense of what is possible, and the sensations of being in this environment for three hours, its calmness, balance and healing amongst the busyness of the show and city around it. I hope I can bring some of that back with me.
The rewilding garden is at the Chelsea Flower Show, which runs from Tuesday 24th May to Saturday 28th May.
For more information see https://urquharthunt.com and A Rewilding Britain Landscape.
If you are visiting the show come and say hello!