by Ed Bailey, Garden Designer and Principal Landscaper, Rewild Garden Design
5th May, 2022
The first and arguably most important rule when it comes to designing your rewilded garden is that it is YOUR garden! Whilst we all want a little piece of Eden and a spectacular home for our wonderful native wildlife don't forget you need to live in the garden as well so remember to include all the bits you want in your garden: somewhere to sit, somewhere for the washing, the BBQ and, if needed, space for football pitches, climbing frames, swings and slides.
Using a client's new-build garden, in the village of Fangfoss near York, as a case study (along with a few extra bits taken from other projects) I hope to be able to show you how we go about designing and building a garden using rewilding principles and techniques to achieve a rewilded garden in a domestic setting. Previously, there wasn't any form of garden here at all, just farm buildings and a yard – so, we really are starting from scratch rather than rewilding a pre-existing garden. The photos will show the garden as it was, during the build and immediately after.
In this series of blogs, I hope to be able to show you the first few seasons of growth and development in the garden, including what has worked and if anything didn't work what the solutions were.
Fangfoss Case study

Site Location: Fangfoss, edge of the village surrounded by grazed fields, bounded by mixed native hedging and mature trees.

Site Description: Large new build, reclaimed brick and oak construction.

Size and shape: The plot consists of a large, L shape lawn and patio at the rear and side, facing East and North respectively The rear garden is approximately 35m x 28m along its perimeter and 12m deep. To the front there's a rectangular lawn approximately 12m x7m.
Current garden: New imported topsoil 600mm depth (poor to no structure, reasonably compacted). New turf front and rear, laurel hedging, mixture of native and non-native trees borders planted with a mixture of ornamental shrubs.

Brief:

Create a rewilded/ wildlife garden with a different broad habitat type containing a mosaic of micro-habitats and micro-climates to create the maximum range of ecotones and biodiversity.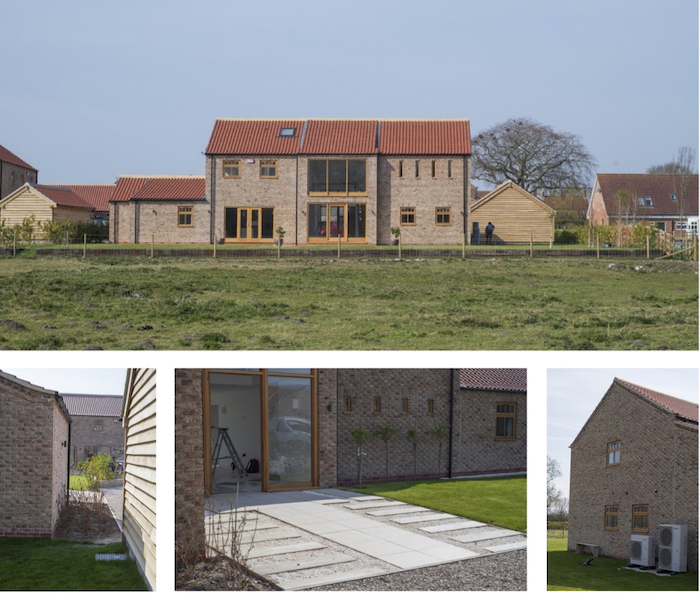 Part 1 – Assessing your site
Creating the base plan
The first thing I do is create a plan of the current site, asses it and research the local area.
I am going to skip over the intricacies of how to measure and survey a site to create the plan, basics are…
where your boundaries are
where your property sits in relation to your garden
where the immovable elements are in your garden (i.e. large trees, utilities, hard standing etc).
Below is a list of things we typically consider when assessing a site.
Local geology, hydrology, soil type and aspect of the garden, which areas are in sun or shade and at what times (day and year).
Your garden will have the most impact if you take into account the local environment.
Think about the wildlife; what is growing in fields, hedgerows, woodlands, rivers, streams and ponds nearby? Where are the local wildlife areas? Local wildlife trusts, record centres, the local council and interest groups (Butterfly Conservation, Woodland Trust, bat group, mammal society etc) are all good sources to consult. Details of designations locally can be easily found using government websites such as Natural England and particularly Magic Map.
The base plan only needs to be a sketch of the existing site in the first instance. Usually, I combine this with annotated photographs that I can reference back to the base plan sketch. Once you have made your site plan on paper/digital device of choice you can move onto the design stage.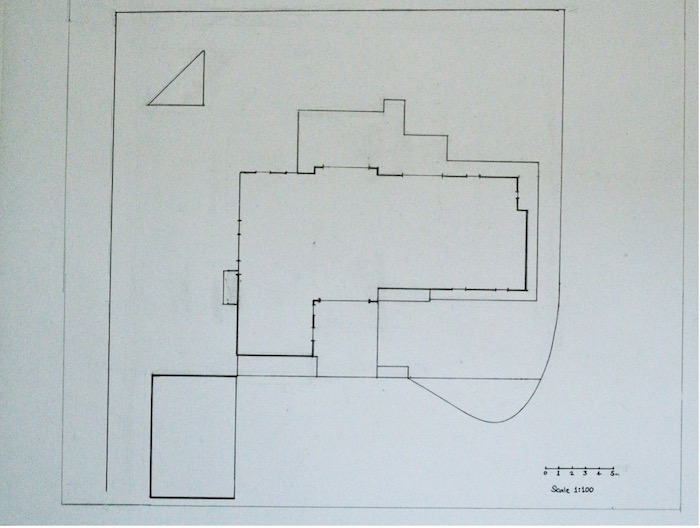 Design – what to include?
It is tempting to try to include every possible habitat, micro habitat and micro climate in your garden but in practicality this becomes impossible. It is better to stick to a few key elements and do them well, let nature (and the actual rewilding side of things) do the rest. Usually, I suggest to clients the key areas to include are:
water
long grass/meadow area
an imitation of woodland or shrubby cover.
None of these elements have to be on a grand scale, if you have acres and acres then great but even if you only have a balcony, you can still achieve these basics.
Designing the garden in Fangfoss
As you can see in the photos, the garden in Fangfoss is considerably bigger than most suburban gardens but it isn't on a grand scale. Things that we include in this garden are easy to scale up or down depending upon the size of your own patch of green.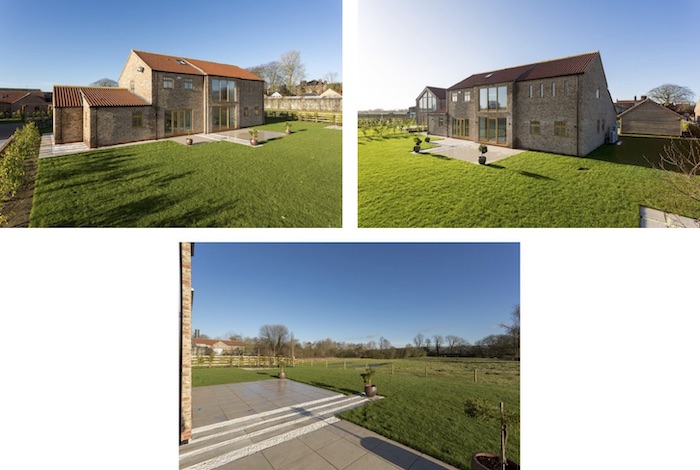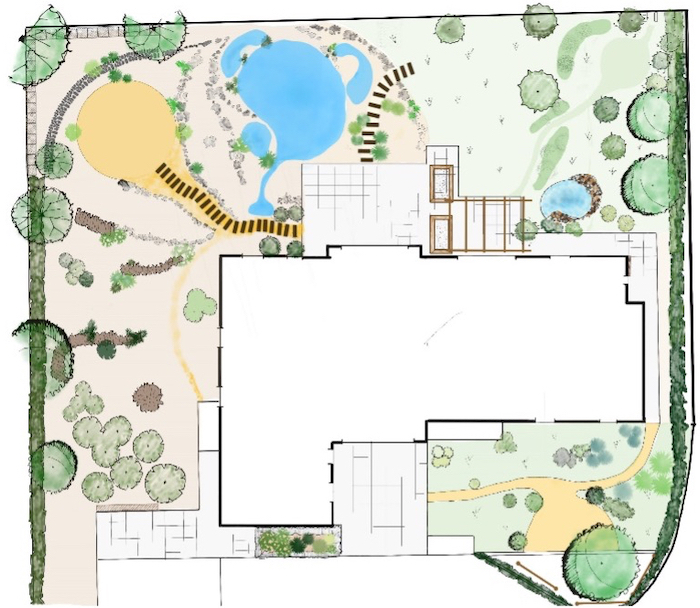 The completed concept sketch for the garden at Fangfoss. The version presented to the client also includes extensive notes and annotations often along with supporting data from the aforementioned local wildlife agencies etc.
See my upcoming blogs for more about the development of the garden.
---
Ed Bailey – bio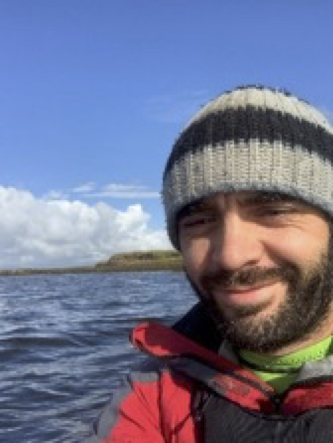 I've spent most of my adult working life outdoors in some way or another, whether it's as an adventurous activities' instructor taking groups and individuals climbing, canoeing, hillwalking or scrambling or as a gardener/ designer/ landscaper running my business.
In 2016 family life meant I needed to step away from the adventurous activities work and look for something with more sociable hours (and better pay)!
After a few words with my dad, an experienced designer and landscaper, I ended up setting up as a self-employed landscaper, with little practical knowledge but a keen interest in conservation and a lot of enthusiasm….
Fast forward 18 months and I quickly realised that I didn't want to spend the rest of my life laying patios and decking and the idea of having to install Astro turf made me want to give the whole thing up!
Then I came across a book called Feral (George Monbiot) shortly followed by a book called Wilding (Isabella Tree), and everything changed for me. Surely, I could take these principles and ideas and make them work in people's gardens. A quick bit of internet research told me that very very few people within the landscaping industry were doing this yet, but to me it seemed the obvious way to go! Overnight I stopped taking on the standard clients who wanted a patio and a lawn and started to hold off for the jobs that really interested me.
Now in 2022 I've never been busier, it's so exciting that so many people are turned on to the idea of rewilding and bringing nature and wildlife back into their gardens! The covid lockdowns and subsequent spike in interest in gardens has allowed me to further expand on the basic principles of rewilding on a garden scale. I now insist that all work has a minimum of 20% of the budget devoted to soft-landscaping and next year we're hoping to push that to 25%.
I aim to educate all our clients on the benefits of improving the biodiversity and soil health of their gardens and allowing natural processes to take the lead. I'm a huge lover of ponds in gardens and a native plant fanatic so both of these feature prominently in our work.
[Images: Ed Bailey]