by Su and James Wood (YRN Smallholders group)
2nd February, 2022
Large purple buds and the first purple catkins on the young alders are a wonderful sign of promise for the seasons to come this year. Our 1200 Woodland Trust trees were planted two years ago in January 2020 as part of the 'Northern Forest' project. In that time they have gone from small whips hidden in plastic tubes, to starting to feel like a woodland.
Just about all the trees made lots of growth last year – many of the goat willows and aspens are now towering over us. The oaks continued to look so thin and grey that we weren't sure they had survived, but the second year saw lots of growth and it was joyful to see the oak leaves appear above the protectors. The sweet chestnuts too had remained short with few leaves the first year, but then shot up to reveal their wonderful large, serrated leaves. The rowans were some of the first to branch out, and we had some lovely autumn leaf colour – will we get berries this year? And will we get blossom on the wild and bird cherries in the spring?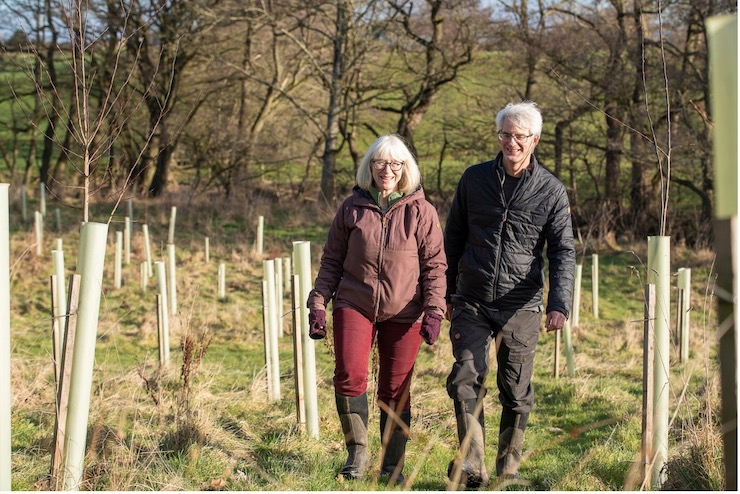 In Black Close Wood, we left an area unplanted in the hopes of a woodland glade in years to come. Last year we de-turfed some of this area and planted a native wildflower seed mix for the heavy clay we have here. Much to our delight, this large patch is now packed with a wonderful variety of plants. It will be so exciting to see what flowers emerge. Hopefully there will be seed spreading from this patch, and we plan to transplant plugs to other parts of the farm.
Two of our woodland areas are on the River Laver, and the riverbanks saw benefits from not being grazed, with wild garlic, bluebells, red campion and ragged robin increasing in numbers. We are now enjoying the emergence of snowdrops. Admittedly, it was also helped by our efforts to remove the blanket of Himalayan balsam that smothered the riverbanks. After the first massive effort, it has been much easier to pull up any seedlings.
Our orchard trees were planted three years ago. We knew we wanted some fruit trees, and it was encouraging to find one of the old field names on the deeds was 'Orchard Garth'. We were intrigued to discover that different varieties of apple support other wildlife such as insects to very different degrees, so we tried to choose those that would be the most beneficial to the habitat. We have since found out that the old apple tree in the house garden was part of the original farm orchard. One of the other fields was called 'Crabtree Close' so we plan to include crab apple trees in our new planting. We have taken the neighbouring farmer's sheep out of the orchard in late spring, and have been rewarded with swathes of buttercups; since the first year, the diversity of plants has grown with knapweed, great burnet, red sorrel, chickweeds, clovers, and hogweed amongst others now appearing.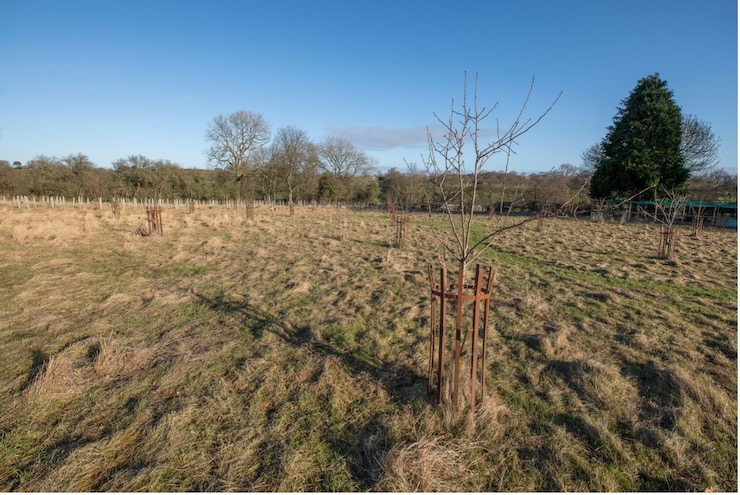 We are aiming to increase the diversity of our meadows, and repair the gaps in hedges, with Farming in a Protected Landscape funding through the Nidderdale AONB (Area of Outstanding Natural Beauty) team. We hope to add to an already diverse mix of hedge species including blackthorn, dog rose, honeysuckle, holly, hazel and elder. Sadly, we are starting to lose our many ash trees to 'ash die-back' disease, so we plan to add new standard trees in the hedgerows to help replace these lovely trees in the landscape.
It will be exciting to see what comes from the winter promise as we continue our journey into rewilding at Laver House Farm.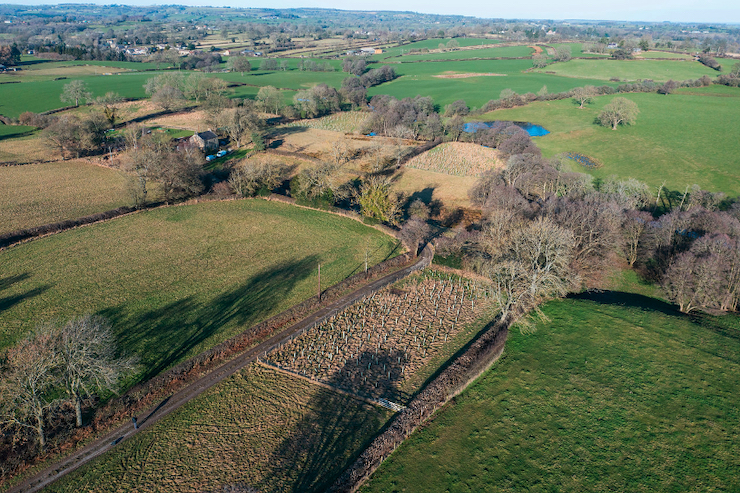 [Images: Giles Rocholl and Chris North]